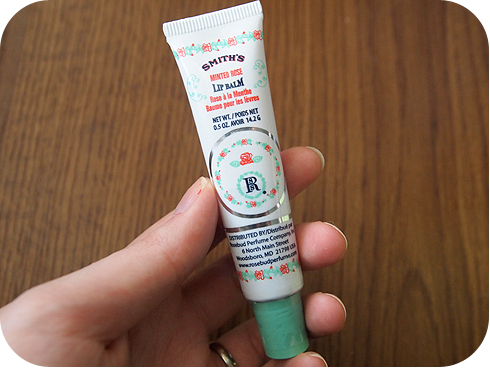 Happy Friday my lovely readers! :)
Today I'll be doing a mini review on the Smith's Minted Rose lip balm. Linda from Rosebud Perfume Co. liked my
last review
so much she offered to send me a tube of their new Minted Rose lip balm! Of course I happily accepted!
Minted Rose is such a lovely flavor made from a blend of trade secret essential oils and pure peppermint oil. It comes in the convenient tube packaging with charming mint green accents. The balm has a nice tingly sensation on the lips and is quite refreshing! It's just as moisturizing as the original but with with a wonderful minty zing! Many people have actually used this product for massage or applied it to their temples to help relieve headaches and tension. Smith's lip balms have so many uses other than moisturizing your lips and that's one of the reasons I love them!
GIVEAWAY
Linda was also kind enough to provide an extra tube of the Minted Rose lip balm for one of my lucky readers! I'm so excited to be having my first giveaway!
This giveaway is international and open to all readers.
To enter the giveaway:
-You must be following my blog either through Blogger (via Google Friend Connect) or Blog Lovin'. Let me know in your comment which one you're following me with.
-Leave a comment below saying you'd like to be entered and also provide an email address so that I may contact you if you are the winner.
The winner will be announced on August 10th! Good luck! <3