I love Etsy and it's community of small businesses. I often browse around looking for vintage clothing and accessories or natural beauty products. Luckily I stumbled upon Gilded Lily Beauty! Gilded Lily Beauty is run by the very sweet Candace who makes bath and body products by hand. Her line of products are inspired by the culture of the 1920's and 1930's. I must admit that the packaging was what caught my eye and led me to her shop! I'm a sucker for any sort of vintage or retro packaging haha. All of her products have such darling names as well, including "Victory Garden" and "Boudoir".
Candace was kind enough to send me a couple of her products for review. I was so excited to receive them! A few days later I got a package containing a bottle of "Silk Stockings" hand and body lotion, a bar of "Victory Garden" goat's milk soap and a sample of the "Boudoir" goat's milk soap. Of course I smelled everything right away and it was heavenly!
Silk Stockings Hand & Body Lotion ($15):
I picked out this lotion purely for the name and I'm glad I did! I'm not kidding you all when I say that this is probably my new favorite lotion. Silk Stockings has an almond, vanilla, cocoa and musk scent and it's truly delightful! It contains sunflower oil and coconut oil combined with shea butter and aloe which makes a wonderfully rich and creamy texture. There is also silk amino acids in the lotion to help soften the skin. What I love most about this product is that it absorbs into the skin so fast! It doesn't leave your skin feeling greasy at all.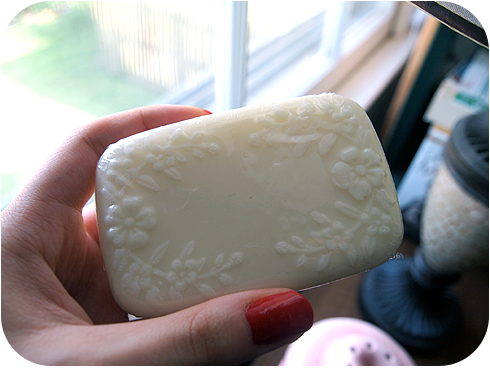 Victory Garden Goat's Milk Soap ($7):
First of all I love the name of this soap! Victory Gardens were vegetable, fruit and herb gardens planted on private residences and parks during WW1 and WW2 to increase food production.
The soap itself has a beautiful floral design on top. It's so pretty I almost didn't want to use it! As soon as I removed the packaging I could instantly smell sweet blackberries! There is also a hint of sage which is very nice. This soap also contains goat's milk which makes a nice creamy lather. Goat's milk has lactic acid in it and lactic acid is great for naturally exfoliating the skin. I felt nice and clean after using it but not super dry and tight like some soaps can do!
Boudoir Goat's Milk Soap ($7):
This soap smells so beautiful! It immediately made me think of old Hollywood. Boudoir has a rich green fig, coconut milk and musk scent. I usually don't like musk because it tends to give me a headache but the musk in this soap isn't too overpowering and was actually very nice. I'm definitely going to purchase a full bar of this soap next time!
I can honestly say that I love each product I received and think they smell just lovely! I only review products on my blog that I believe in and stand behind 100%. I especially like to support smaller companies that create quality products. Candace makes a wonderful line of products at fair prices. With that being said I highly recommend checking out Gilded Lily Beauty.
Gilded Lily Products can be purchased at
http://www.etsy.com/shop/GildedLilyBeauty
*NOTE:
These products were sent to me free of charge for reviewing purposes. I was not paid for this review and all thoughts and opinions are entirely my own.