"The Rosebud Perfume Company, Inc. was founded by George F. Smith in 1895. The business began in a small drugstore across the street from what is now the "Rosebud Building". The Rosebud Perfume Company, Inc. distributes its salves and lip balms throughout the world and is enjoyed by celebrities, athletes, homemakers, and health care providers alike." -
rosebudperfume.com
Once known as Smith's "Balsam of Rosebuds" is now what we know as Smith's "Rosebud Salve". Linda over at Rosebud Perfume Co. was kind enough to send me their Rosebud Medley of Lip Balm Tubes for review. I was quite excited because Smith's Rosebud Salve has become a bit of a cult product in the beauty community.
The Rosebud Perfume Co. is based in Woodsboro, Maryland so my package arrived quickly since I live in Virginia Beach. First of all the packaging of this product is stunning! The tubes are encased in a beautiful circular tin embossed with the Rosebud logo. Inside the tin was a tube of the Rosebud Salve, Strawberry Lip Balm and Mocha Rose Lip Balm.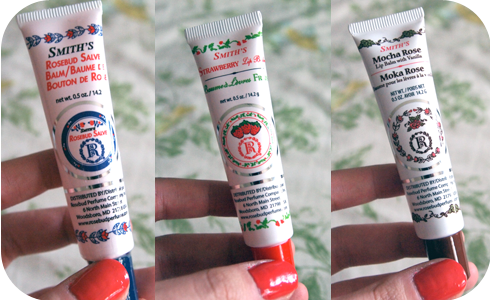 Smith's Rosebud Salve:
This salve has been a favorite since 1892! It must be because of it's many uses. For instance you can use it as an eye makeup remover, cuticle softener and sunburn easer. You can even use it around the eyes or on the throat for dry or wrinkled skin. It also has many cosmetic uses! Rosebud Salve can be used to tame eyebrows, smooth any fly-aways or frizzy hair, and as an eye makeup base. I like to use it as my nighttime lip moisturizer. It has a nice rose scent and emollient texture. My lips are super soft in the morning!
Strawberry Lip Balm:
This has all of the goodness of the original balm but with a trade secret blend of strawberry flavors! I love strawberries so I was delighted to see it when I opened the tin! It's a great flavor for the summer months.
Mocha Rose Lip Balm:
I didn't even know this scent existed and was very intrigued. It ended up being my favorite out of the three! I must admit that I have a bit of a sweet tooth so of course I thought this smelled amazing. Again, it's just as great as the original but with a delicious chocolate café scent!
I would definitely recommend any of the Smith's lip balms. They are great multipurpose products sold at a reasonable price. Most of the lip balm tubes and tins range from $6-$8. You may purchase Rosebud Perfume Co. products at your local Sephora. For a full list of other retailers please click
here
.
*NOTE:
These products were sent to me free of charge for reviewing purposes. I was not paid for this review and all thoughts and opinions are entirely my own.