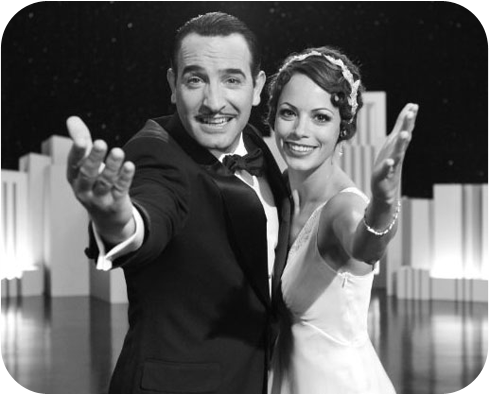 Starring:
Jean Dujardin and Bérénice Bejo
Directed By:
Michel Hazanavicius
Synopsis:
Silent movie star George Valentin bemoans the coming era of talking pictures and fades into oblivion and self-destruction, but finds sparks with Peppy Miller, a young dancer lighting up talkies like no one else.
My Thoughts:
I finally got a chance to watch The Artist a few nights ago. Wow! This film is truly wonderful! I became so immersed that there were a few times where I forgot I was watching a modern movie. The lead actors were so charming and funny. They did an amazing job! It's no surprise this film was nominated for ten Academy Awards and won five including Best Picture, Best Director and Best Actor. It was actually the first mainly silent film to win Best Picture since Wings (1927). I strongly recommend watching The Artist even if you don't think you'd enjoy watching a silent film. You may be pleasantly surprised!
Trailer: