I'm sure by now that many of you know or have heard of Influenster. You basically get free product in exchange for your thoughts and reviews. It's totally free to sign up! If you're just starting out in the YouTube or Blog universe I think it's a great opportunity and highly recommend signing up for an account. I mean who doesn't love free stuff? For more info please go to
www.influenster.com
. You can also just type "Influenster" or "VoxBox" into YouTube and tons of videos will show up explaining it all in more detail!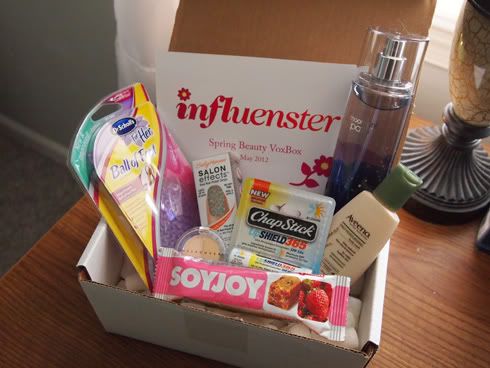 1.
Sheer Cover Duo Concealer (Light/Medium) - As soon as I saw it I already knew it was going to be too dark for me. Which really stinks because I am in need of concealer right now and was hoping this would work out! I tested it out on my hand and it has nice coverage and a creamy consistency. Ah the curse of pale skin! I'll most likely have to give this away to someone in my family.
I did notice that you can't buy this product individually though. It is only sold in a one-month supply kit of 6 products + 3 bonus products for $29.95. I guess the price really isn't that bad for what you are getting but it could be inconvenient to someone who just wants to purchase the concealer.
2.
Aveeno Daily Moisturizing Body Wash (travel size) - I love travel sized products! They are so convenient to just throw in your bag or suitcase when it's time to go on a trip. The scent of this body wash is pleasant and not too overpowering. My skin was somewhat softer after using it but not enough to notice a real difference. Maybe if I used it continuously I would see better results. It retails for $6.99-8.99 for a full sized bottle. To me that is a little pricey for a body wash and I probably wouldn't buy it unless it was on sale. What can I say, I tend to be frugal when it comes to these things.
3.
ChapStick Lip SHIELD - I don't really have much to say about this item. It's nice to have an SPF of 50 in it especially with summer right around the corner. The scent is actually quite nice and doesn't have that overwhelming sunscreen smell. My husband uses chapstick more than I do. I'm a fan of Smith's Rosebud Salve. Would I buy it? I might if I saw it but I probably wouldn't go out my way to find it.
4.
Sally Hansen Salon Effects - I actually really love nail polish strips! I have used another brand before and thought they were so convenient. I find that they last a lot longer on my nails than if I put regular old nail polish on myself. Which is good for me because I am notorious for chipped nail polish. I don't know why but nail polish just does not like me! If you have any tips please let me know!
The only negative thing I can say about this item is the style they sent me. It's called "Frock Star" and it's very glittery. Not that I don't like a little bit of glitter but this is overkill. Maybe I would have liked it better if it was just silver in color but it's silver, green, blue, red, and gold. For some reason it's reminds me of a kid's birthday party or a clown.
5.
Bath & Body Works Fine Fragrance Mist (Moonlight Path) - I was dreading that I would get the Moonlight Path scent and I did haha. Oh well. It's a FULL size product for free so I really can't complain! I love Bath & Body Works but I just never liked Moonlight Path. To me it has a very strong powder smell and would probably give me a headache soon enough. I'll probably end up giving it away to my mom haha.
6.
SOYJOY Bar (Strawberry flavor) - I thought it was delicious! I think it would be a great on the go snack you can just throw in your purse. Plus it's only 130 calories and gluten free! Next time I'm at the store I will definitely be picking up some of the other flavors to try!
7.
Dr. Scholl's For Her Ball of Foot cushions - These were a bonus item thrown in the box. I'll be honest and say that I rarely ever wear heels. I look like a total idiot walking in them and they make my feet hurt like hell. They do feel like they would be comfortable though. Maybe I'll put them to use and give heels another try!